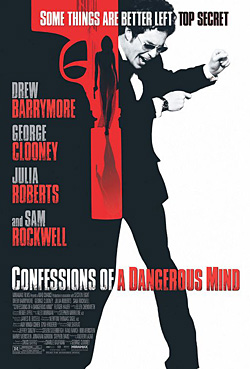 Confessions Of A Dangerous Mind (2002)
Director :

George Clooney

Scriptwriter :

Charlie Kaufman

,

Chuck Barris

Production :
Miramax Films
Cast :

Sam Rockwell

(Chuck Barris),

George Clooney

(Jim Byrd),

Drew Barrymore

(Penny), Julia Roberts (Patricia Watson), Brad Pitt (Yarışmacı 1),

Matt Damon

(Yarışmacı 2)
Release date :
07 Feb 2003
Genre :
Thriller / Drama / Biography / Crime
Duration :
1 hr, 53 min.
Country :
United States / United Kingdom
Website :
Bazı şeylerin gizli kalması daha iyidir
Movie Synopsis
Film, Chuck Barris isimli ünlü bir şovmenin Confessions Of a Dangerous Mind: An Unauthorized Autobiography kitabından uyarlanmış.

Barris'in (Sam Rockwell) şov dünyasında çalıştığı yıllarda, gizlice CIA adına çalıştığını ve uzun bir süre, gündüzleri şov yıldızı, geceleri tetikçi olarak yaşadığını iddiasını işleyen filmde onun kariyeri, inişleri, çıkışları ve suikastleri anlatılıyor.