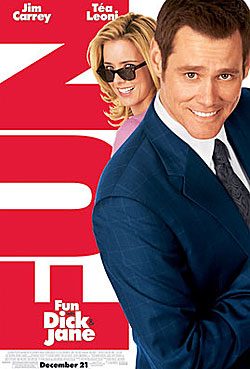 Fun with Dick and Jane (2005)
Director :

Dean Parisot

Scriptwriter :

Judd Apatow

,

Nicholas Stoller

Production :
Columbia Pictures
Cast :
Jim Carrey (Dick Harper),

Tea Leoni

(Jane Harper), Alec Baldwin (Jack McCallister),

Richard Jenkins

(Frank Bascombe),

Angie Harmon

(Veronica Cleeman),

John Michael Higgins

(Garth)
Release date :
3 Mar 2006
Genre :
Comedies / Crime
Duration :
1 hr, 30 min.
Country :
United States
Website :
Movie Synopsis
Dick Harper (Jim Carrey), başkan yardımcılığına terfi ettiği ilk günün ardından çalıştığı şirket iflâs eder. Dick ve sevgili karısı Jane (Téa Leoni), dehşet içinde banliyödeki evlerinin, lüks arabalarının ve dostlarının gidişine tanık olurlar. Dick, Amerikan rüyasından vazgeçmeye niyetli değildir. Ahlâksız işvereninden ders alan genç adamın aklına parlak bir fikir gelir: Eğer çalmak patronu için uygunsa, onun için de uygundur.