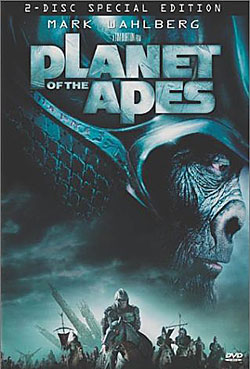 Planet of the Apes (2001)
Director :

Tim Burton

,
Scriptwriter :

Pierre Boulle

,

William Broyles Jr.

Production :
Twentieth Century Fox
Cast :
Mark Wahlberg (Leo Davidson),

Tim Roth

(Thade),

Helena Bonham Carter

(Ari),

Michael Clarke Duncan

(Attar),

Paul Giamatti

(Limbo),

Estella Warren

(Daena),

Kris Kristofferson

(Tival),

Erick Avari

(Birn)
Release date :
19 Oct 2001
Genre :
Action / Science Fiction / Drama / Adventure
Duration :
1 hr, 59 min.
Country :
United States
Website :
Movie Synopsis
2029 yılında korkusuz astronot Leo Davidson (Mark Wahlberg), uzayda çıktığı bir görev esnasında dünyadaki vahşi ormanları andıran bir gezegene düşer... Kısa sürede gezegene hükmeden canlı türünün maymunlar olduğunu ve insan ırkının onların buyruğu altında ilkel bir hayat yaşadığını keşfeder. Bunun üzerine asi insanlardan oluşan bir grupla, maymunların gücüne karşı bir isyan başlatır...