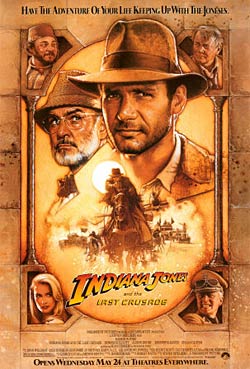 Indiana Jones and the Last Crusade (1989)
Director :

Steven Spielberg

,
Scriptwriter :

George Lucas

,

Philip Kaufman

Production :
Paramount Pictures
Cast :

Harrison Ford

(Indiana Jones),

Sean Connery

(Henry Jones),

Alison Doody

(Dr. Elsa Schneider),

John Rhys-Davies

(Sallah),

Denholm Elliott

(Dr. Marcus Brody)
Release date :
Genre :
Action / Adventure
Duration :
2 hr, 7 min.
Country :
United States
Website :
www.indianajones.com...
Movie Synopsis
Indiana Jones (Harrison Ford) bu macerada Kutsal Kase'nin peşindedir. Fakat kaseyi arıyan bir tek o değildir. Peşinde, babası Henry Jones'u (Sean Connery) kaçıran naziler vardır. Venedik'ten, Türkiye'ye kadar bir çok yerde süren macerada Jones'u çeşitli süprizler beklemektedir.
Serial movies
Raiders of the Lost Ark

Release date : 12 June 1981




Director : Steven Spielberg

Scriptwriter : George Lucas, Phillip Kaufman

Cast : Harrison Ford, Karen Allen, Paul Freeman, Ronald Lacey, John Rhys-Davies, Denholm Elliott, Alfred Molina, William Hootkins

Indiana Jones and the Kingdom of the Crystal Skull

Release date : 23 May 2008




Director : Steven Spielberg

Scriptwriter : David Koepp, George Lucas, Philip Kaufman

Cast : Harrison Ford, Cate Blanchett, Shia LaBeouf, Karen Allen, John Hurt, Ray Winstone, Jim Broadbent, Igor Jijikine

Indiana Jones and the Temple of Doom

Release date : 12 Jan 1986




Director : Steven Spielberg

Scriptwriter : George Lucas, Willard Huyck

Cast : Harrison Ford, Kate Capshaw, Amrish Puri, Roshan Seth, Philip Stone