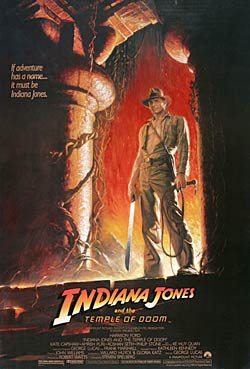 Indiana Jones and the Temple of Doom (1984)
Director :

Steven Spielberg

Scriptwriter :

George Lucas

,

Willard Huyck

Production :
Paramount Pictures
Cast :

Harrison Ford

(Indiana Jones),

Kate Capshaw

(Willie Scott),

Amrish Puri

(Mola Ram),

Roshan Seth

(Chattar Lal),

Philip Stone

(Yüzbaşı Blumburtt)
Release date :
12 Jan 1986
Genre :
Adventure / Fantastic / Action
Duration :
1 hr, 58 min.
Country :
United States
Website :
www.indianajones.com...
Movie Synopsis
Şangay'da bir gece kulübünde çıkan kargaşadan kaçan Indiana Jones (Harrison Ford ), yanında uzakdoğulu küçük yardımcısı ve genç, çekici şarkıcı Willie (Kate Capshaw) ile kendisini Hindistan'da bulur. Maceraperest arkeolog, küçük bir köydeki çocukları kaçırarak madende çalıştıran ve zulüm eden Thuggee'ler ile karşı karşıya gelir.

Kana susamış tarikatın hedefi, yüz yıl önce İngiliz sömürgeciler tarafından yasaklanan korkunç eylemlerine devam etmek için madenlerde kaybolmuş olan kutsal elmasları bulmaktır.
Serial movies
Raiders of the Lost Ark

Release date : 12 June 1981




Director : Steven Spielberg

Scriptwriter : George Lucas, Phillip Kaufman

Cast : Harrison Ford, Karen Allen, Paul Freeman, Ronald Lacey, John Rhys-Davies, Denholm Elliott, Alfred Molina, William Hootkins

Indiana Jones and the Kingdom of the Crystal Skull

Release date : 23 May 2008




Director : Steven Spielberg

Scriptwriter : David Koepp, George Lucas, Philip Kaufman

Cast : Harrison Ford, Cate Blanchett, Shia LaBeouf, Karen Allen, John Hurt, Ray Winstone, Jim Broadbent, Igor Jijikine

Indiana Jones and the Last Crusade

Release date :




Director : Steven Spielberg,

Scriptwriter : George Lucas, Philip Kaufman

Cast : Harrison Ford, Sean Connery, Alison Doody, John Rhys-Davies, Denholm Elliott