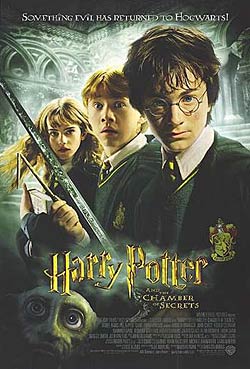 Harry Potter and the Chamber of Secrets (2002)
Director :

Chris Columbus

,
Scriptwriter :

Steve Kloves

,

J.K. Rowling

Production :
Warner Bros.
Cast :

Daniel Radcliffe

(Harry Potter),

Rupert Grint

(Ron Weasley), Emma Watson (Hermione Granger),

Kenneth Branagh

(Gilderoy Lockhart),

John Cleese

(Nick),

Robbie Coltrane

(Rubeus Hagrid),

Warwick Davis

(Flitwick),

Richard Griffiths

(Vernon Dursley),

Richard Harris

(Albus Dumbledore)
Release date :
29 Nov 2002
Genre :
Fantastic / Adventure
Duration :
2 hr, 41 Dakika
Country :
United States / United Kingdom
Website :
harrypotter.warnerbros.co.uk...
Movie Synopsis
Harry (Daniel Radcliffe), iyi bir yaz geçirmemiştir. Buyurgan Teyzesi (Fiona Shaw) ve Vernon Dursley Eniştesi'ne (Richard Griffiths) ve sahip olduğu sihirli güçlerine duydukları korkuya katlanmak zorunda kalmanın yanısıra, Harry kendini en yakın arkadaşları Ron Weasley (Rupert Grint) ve Hermione Granger (Emma Watson) onun tek bir mektubuna bile yanıt vermemişlerdir. Sonra, aniden ve gizemli bir şekilde, ev cini Dobby, Harry'nin yatak odasında ortaya çıkar ve Hogwarts'a geri dönmeye yeltenmesi halinde çok büyük tehlikelerle karşı karşıya kalacağı konusunda onu uyarır. Dobby, genç Gryffindor'un cadılar ve büyücüler okuluna dönmesini engellemek konusunda o kadar azimlidir ki, Ron ve Hermione'nin Harry'ye ulaşmak için kullandıkları tüm yolları kesmiştir. Ancak cinin muzip çabalarına rağmen, her zaman kararlı olan Harry, Dursley'lerin kasvetli pençelerinden Ron ve erkek kardeşleri tarafından kurtarılır uçan bir arabanın yardımıyla! ve Weasley evinin sıcaklığıyla karşılanır. Okula dönen Harry`nin ilk yıl sergilediği kahramanlıklarla ilgili haberler tüm Hogwarts'a yayılmıştır ve Harry kendini birden istenmeyen bir ilginin tam ortasında bulur. Şimdi tüm gözler Harry'nin üzerindedir ve arkadaşı olarak bildikleri bile ondan şüphe duymaktadır. Ancak Harry arkadaşlarını hayal kırıklığına uğratmaya niyetli değildir ve çok sevdiği okulunda pusuya yatmış olan karanlık güce karşı çıkacaktır.