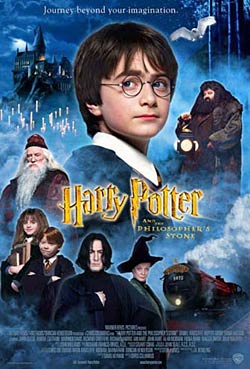 Harry Potter and the Sorcerer's Stone (2001)
Director :

Chris Columbus

Scriptwriter :

Steve Kloves

,

J.K. Rowling

Production :
Warner Bros.
Cast :

Daniel Radcliffe

(Harry Potter),

Rupert Grint

(Ron Weasley), Emma Watson (Hermione Granger),

Robbie Coltrane

(Rubeus Hagrid),

Richard Harris

(Albus Dumbledore),

Maggie Smith

(Minerva McGonagall),

Alan Rickman

(Severus Snape),

John Hurt

(Mr. Ollivander),

Zoe Wanamaker

(Madame Hooch),

Richard Griffiths

(Vernon Dursley),

Ian Hart

(Voldemort),
Release date :
1 Feb 2002
Genre :
Fantastic / Adventure
Duration :
2 Saat, 32 Dakika
Country :
United States / United Kingdom
Website :
harrypotter.warnerbros.com...
Movie Synopsis
Harry Potter (Daniel Radcliffe) 11. yaşgünü yaklaşırken, tatsız akrabaları olan ve anne babasının ölümünün ardından kendisini merdiven boşluğu altındaki dolapta uyumaya zorlayan Dursley'lerden kendisine gelebilecek hediye ya da heyecan konusunda pek beklentisi yoktur. Ancak bu yıl Harry'nin yaşgünü farklı olacaktır. Harry'nin hayatı, esrarengiz yeşil bir mürekkeple yazılmış ve bir baykuşun getirdiği gizemli bir mektupla değişir. Mektubun kendisine ulaşmasını sağlayan devesa bir dev olan Rubeus Hagrid (Robbie Coltrane) Harry'nin hayatını değiştirecek sırrı açıklar; O, yani Harry Potter, bir büyücüdür! Ve bu mektup evsanevi "Hogwarts Cadılık ve Büyücülük Okulu"na bir davetiyedir. Ayrıca Harry, annesi ve babasının, akrabalarının kendisine defalarca söylediği gibi bir araba kazasında ölmediğini öğrenir. Harry, ailesi hakkındaki gerçekler ve Hogwards'a davet edilişi karşısında şaskına dönmüştür. Merdiven boşluğunda yeni bir akşam daha ve artıklarla geçirilen bir hayatla karşı karşıya kalan Harry, Londra'daki King's Cross İstasyonu'na doğru Hagrid'e eşlik etmekte tereddüt etmez ve orada gizli Peron 9 3/4 'i keşfeder ve Hogward Ekspresi'ne biner. Harry'inin Hogwards Cadılık ve Büyücülük Okulu'na gitmesiyle hayalgücünüzün ötesinde bir yolculuk başlar.