BioRank 106
Robert De Niro
Date of birth :
17.August.1943
Weight & height :
Birthplace of Robert De Niro :
Greenwich Village, New York, ABD
Who is Robert De Niro?
One of the greatest American actors of his generation, Robert De Niro (born 1943) is known for his total immersion in roles. Whether driving a cab to prepare for
Taxi Driver
or gaining 60 pounds to play boxer Jake La Motta in Raging Bull, De Niro studies his characters intensely. The Oscar-winning actor is best known for his roles in gangster-related films such as the-godfather, Part II.
In a 1976 interview, De Niro explained his approach to preparing for a role. "Actors must expose themselves to the surroundings and keep their minds obsessed with that," he said. " … I always look at everything…. If you don't practice, you don't know your subject and it can't be natural … You've got to physically and mentally become that person you are portraying."

De Niro was born in New York City on August 17, 1943. His father, Robert De Niro Sr., was a sculptor, painter and poet. His mother, Virginia Admiral, also sold paintings. His parents had a salon in Greenwich Village that attracted other artists and intellectuals. They divorced when their son was a young child. As he approached adolescence, De Niro was shy and sickly looking. His pale complexion earned him the nickname "Bobby Milk" in the ethnic neighborhood of "Little Italy," where he grew up. His first stage role, at age ten, was as the cowardly lion in a local production of
The Wizard of Oz
.
At the age of 16, De Niro got his first paying role, in a production of Chekhov's The Bear . He was hooked. Dropping out of high school just a few credits short of graduation, he studied Method acting under Lee Strasberg and Stella Adler. For the next 14 years De Niro performed off-Broadway, in dinner theaters, in touring productions, and occasionally in television commercials and small films.
Director Brian De Palma gave De Niro his start in films.. He cast the young New Yorker in the little-noticed, small-budget films The Wedding Party, Greetings, and Hi, Mom! In Greetings De Niro had the lead role as a draft dodger. Soon, actress Shelley Winters took him under her wing. She helped him land a part in the low-budget Roger Corman film Bloody Mama. He played one of the sons of her character, the legendary killer Ma Barker. De Niro prepared by spending weeks in the Ozark Mountains, perfecting an Arkansas dialect. De Niro next appeared in a string of poorly received films, including Jennifer on My Mind, Born to Win, and The Gang That Couldn't Shoot Straight. Though the movies were panned, some film critics started to notice his exceptional performances.
Director Francis Ford Coppola, whose massively popular the-godfather (1972) had won the Academy Award for best picture, was so impressed by De Niro in Mean Streets that he offered the actor the part of young Vito Corleone in The Godfather, Part II (1974), forgoing even a screen test. De Niro's brilliant take on the part that was created by Marlon Brando in the first Godfather film earned him a best supporting actor Oscar and made him an international star.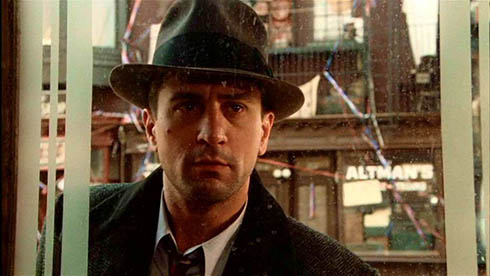 Following The Godfather, Part II, De Niro worked with some of cinema's most noted directors in such films as Bernardo Bertolucci's 1900 (1976), Elia Kazan's The Last Tycoon (1976), and Michael Cimino's The Deer Hunter (1978), the last one receiving the Oscar for best picture. But it was his films with Scorsese for which De Niro acquired a reputation for masterfully portraying extremely dark and unappealing figures. He received an Oscar nomination for his role as the isolated and violent Travis Bickle in Taxi Driver (1976) and won the best actor Oscar for his portrayal of boxer Jake La Motta in Raging Bull (1980). Known for his intense role preparation, De Niro spent weeks driving a taxi in New York City before filming Taxi Driver, and he gained more than 50 pounds (about 23 kg) to portray La Motta. By the end of the 1970s, he was widely considered one of the best actors of his generation.
In the 1980s De Niro appeared in a series of box office failures that have nevertheless become cult favourites. Scorsese's The King of Comedy (1983), which offered a desolate look at the hazards of celebrity, won critical praise but little public interest, whereas Sergio Leone's epic Once upon a Time in America (1984) suffered from postproduction studio interference, as did Terry Gilliam's futuristic satire Brazil (1985). De Niro also performed in more conventional films during that era, including True Confessions (1981), Falling in Love (1984), The Mission (1986), and De Palma's The Untouchables (1987). He revealed a talent for comedy in Midnight Run (1988) and won some of the best notices of his career for his depiction of a catatonic patient in Awakenings (1990). GoodFellas (1990) reunited De Niro with Scorsese for a brutal look at organized crime. Most critics agreed that Scorsese and De Niro had returned to form, but two further collaborations, Cape Fear (1991) and Casino (1995), were met with mixed reviews.
De Niro later appeared in Michael Mann's crime thriller Heat (1995), which pitted him against actor Al Pacino. He continued to explore his comedic side in such films as the satirical Wag the Dog (1997); Analyze This (1999) and its sequel, Analyze That (2002); and Meet the Parents (2000) and its sequels, Meet the Fockers (2004) and Little Fockers (2010). In 2008 De Niro reteamed with Pacino in the police drama Righteous Kill, and the following year he starred in Everybody's Fine, portraying a widower who discovers various truths about his adult children. He later took supporting roles in the thrillers Machete (2010) and Limitless (2011), the action drama Killer Elite (2011), and the ensemble romantic comedy New Year's Eve (2011).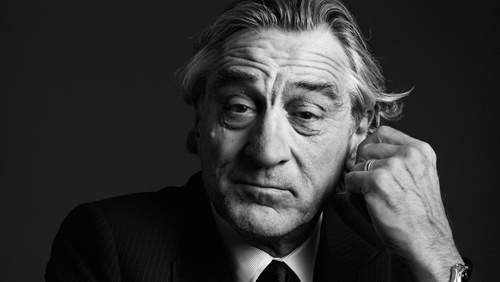 In 2012 De Niro starred as a destitute writer reconnecting with his estranged son in the drama Being Flynn and played another paternal role in the seriocomic Silver Linings Playbook. The latter film earned him his first Oscar nomination in more than two decades. In The Family (2013) De Niro starred as a mobster turned informant whose family moves to France in the witness protection program. He then teamed with Morgan Freeman, Michael Douglas, and Kevin Kline in the buddy comedy Last Vegas (2013).
De Niro's later credits include Grudge Match (2013), in which he and Sylvester Stallone played superannuated boxers who reunite for one last fight, and the workplace comedy The Intern (2015), in which he was featured as the title character opposite Anne Hathaway. He took a supporting role as the embittered father of an entrepreneur (Jennifer Lawrence) in Joy (2015) and had the title role in Dirty Grandpa (2016). His other credits from 2016 include Hands of Stone, in which he portrayed the trainer of boxer Roberto Durán. The following year he starred in the HBO TV movie The Wizard of Lies, playing Bernie Madoff, a hedge-fund investor who operated the largest Ponzi scheme in history.
Tags for Robert De Niro
Robert De Niro, Robert De Niro biography, life story of Robert De Niro, Robert De Niro resume, about Robert De Niro, Birthplace Robert De Niro, Robert De Niro is married?, Robert De Niro photos, Robert De Niro videos, Robert De Niro photo gallery, who is Robert De Niro?, Age of Robert De Niro , where is Robert De Niro from, how old is Robert De Niro